Calling Gopher State One Call (GSOC) 48 hours in advance of digging is important in protecting you and your family from the dangers associated with digging near buried utility lines.
To file a Locate Request, and have the underground utilities marked call Gopher State One Call at 1-800-252-1166 Statewide or visit their website at http://www.gopherstateonecall.org. You can also call the national One Call Center at 811 or visit their One Call 811 website at http://www.call811.com (both will leave WMU's website).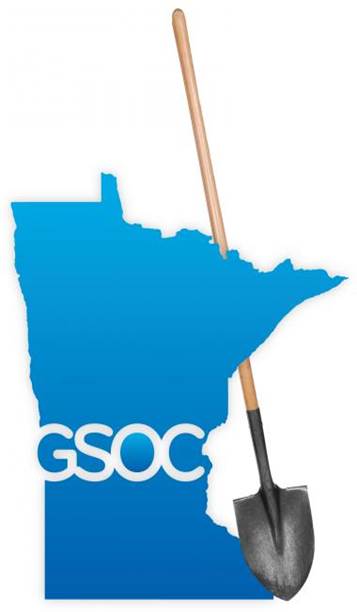 What is Gopher State One Call (GSOC)?
GSOC is the state-wide notification center for excavation in Minnesota.
What Does this Service Cost?
There is no cost for the service that GSOC provide.
When Should A Call Be Made?
A call to GSOC should be made at least 48 hours (excluding weekends and holidays) prior to the start of the digging. The GSOC office hours are Monday through Friday 7:00 a.m. – 5:00 p.m.
How Does GSOC Work?
GSOC takes information from callers who are digging and notifies underground utility operators who will send out personnel to mark the location of their lines. After the utilities are notified, they will determine the need to locate and mark their facilities near the proposed site. By law, underground utility operators must mark their utilities within 48 hours. You cannot dig until the 48-hour time frame has elapsed. The utility owners are required to mark only their buried facilities. If any private utilities are buried in the area, (power lines to garages, gas grill or LP lines, lawn sprinkler systems, invisible fences, etc.) you must locate them or hire a private contractor to perform this service.
Who Should Call?
Anyone digging in Minnesota must call before digging if using power equipment. Even when hand-digging, you are encouraged to call to determine the location of underground utilities. The person who is doing the work is responsible for calling GSOC.
What Should Be Done Before The Call?
Look up the legal description for the property and mark the excavation site in, white stakes or white paint to outline the proposed excavation area. If there are no white markings indicating the proposed work site, the utility operators may mark the entire lot.
What Happens After The Call?
Once the underground utilities are notified, it is their job to determine whether they need to locate their underground utilities near the proposed dig site. Remember, private utilities may not be marked by any utility. Utility operators will mark the location of their own underground utilities on the lot with the previously mentioned color codes. If the dig site has been marked with white stakes, the utilities will mark that area. If white stakes are not used, they may mark the entire lot.
What Should Be Done After The Area Is Marked?
After the underground utilities have been marked, the excavation work may commence. A minimum clearance of two(2) feet (side to side) between a marked and unexposed underground utility and the cutting edge or point of any power equipment must be kept. If excavation is required within two (2) feet of any marking, the excavation should be performed very carefully with hand tools.
If there has been any damage to an underground utility or if there is a suspicion of damage, it is your responsibility to immediately notify the underground utility directly.