Warm & Cozy.
Energy Conscious.
Smart User.
Heating represents 55% of your home's energy consumption.
Electric heating is becoming more common in new home construction and renovations. With the instability of fossil fuel prices, more people are choosing electricity to be their primary or supplemental source of energy for heating their home.
Electricity cannot be stored economically. It is produced 24 hours a day even though the greatest demand is during the day.
Shifting to low usage periods at night, allows you to capitalize on less expensive, off-peak electricity. WMU passes these savings onto participants in its Off-Peak Heating Storage Program.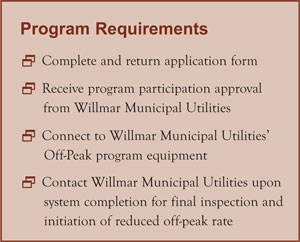 Storage heaters convert electricity into heat during off-peak hours (11 pm to 7 am). The heat is stored, then distributed as needed to heat your home 24 hours a day.
Homes with an existing electric boiler or other heat source may also qualify for WMU's low off-peak rates.
A representative of WMU will visit your home to inspect your electric heating system and make arrangements to have the off-peak energy equipment installed.
Households intending to install an electric heating system should contact WMU for assistance and assurance it will meet the specifications needed for participation.
Viewed as one of the most comfortable heating options, infloor radiant heat evenly distributes heat throughout your home without hearing or feeling air movement. Its quiet warmth promotes a healthy home with less allergens in the air. Thermostats can be set from 1 to 3 degrees lower than forced air heating systems, reducing your energy consumption.


An alternative to gas forced air, central storage systems (brick furnace) utilize the same ductwork. Off-peak electricity enables better control of energy consumption while providing safe and reliable heating.
Energy Services of Willmar Municipal Utilities promotes energy conservation opportunities through customer education and incentives for electrical efficiency.
Businesses and homeowners are invited to conserve energy and save on their electric bill by participating in the following programs offered by WMU:
Load Share-Central Air Cycling
Off-Peak Water Heater
Energy Star Appliance & AC Rebates
Off-Peak Storage Heating
Heat Pump at Reduced Rates
Commercial Lighting Retrofit Rebates
Interruptible Load Program
Call for more Information
Want more information about electric heating options and off-peak rates?
Call (320) 235-4422.
Latest Energy Services Information
For information on the latest Energy Services programs, contact Mary Kosbab at (320) 235-4422.
Off-Peak Heating Application