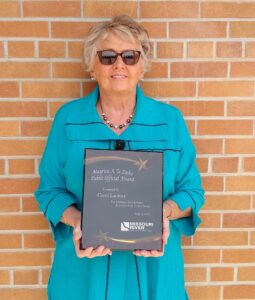 SIOUX FALLS, S.D. – Carol Laumer of Willmar, Minn., was presented with the Missouri River Energy Services (MRES) Maurice A. Te Paske Public Official Award during the MRES annual meeting, which was held May 6 via webinar.
Named for a founding member of MRES, the award honors policymakers who not only serve their member utility, but who also promote MRES and public power beyond the borders of their local communities.
While announcing the award, Willmar Municipal Utilities' (WMU) General Manager John Harren pointed to Laumer's exemplary levels of leadership within the Willmar community, noting she has served as a WMU commissioner since 2012 and has held various leadership roles such as secretary, president, and currently as vice president.
Laumer has served as chair of the WMU labor committee and currently serves on the WMU planning committee. She also has served on the Willmar Lakes Area Chamber of Commerce board and is a past president of Willmar Downtown Development.
At the state level, Laumer has long been active with the Minnesota Municipal Utilities Association (MMUA), attending numerous conferences and serving on the MMUA board of directors. She also has participated in the MMUA Leadership Academy and received the MMUA Public Service Award.
Laumer has been involved at the national level, serving on the American Public Power Association's Policy Makers Council and regularly attending APPA rallies and other meetings. She also has served on the APPA Legislative and Resolutions Committee and on the National Public Power Council.
"Carol's involvement in these many activities only gives us a glimpse into the vast leadership and enthusiasm she provides to Willmar Municipal Utilities, the Willmar community, and to public power in general," Harren concluded.
MRES is a joint-action agency made up of 61 member communities in the states of Iowa, Minnesota, North Dakota, and South Dakota. Each member owns and operates a locally owned, locally controlled electric system. MRES provides wholesale electricity to its members along with a wide range of energy-related services.